2 Movers & Truck

$99 /per1 hour

3 Hours Minimum / Shrink-Wrap & Tape Included / +3.5% With Card Payment
3 Movers & Truck

$129 /per1 hour

3 Hours Minimum / Shrink-Wrap & Tape Included / +3.5% With Card Payment
4 Movers & Truck

$159 /per1 hour

3 Hours Minimum / Shrink-Wrap & Tape Included / +3.5% With Card Payment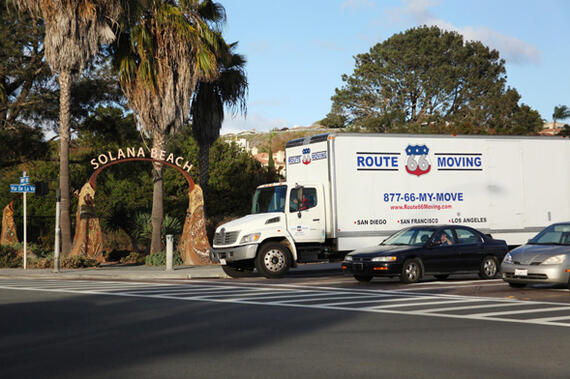 San Diego Movers You Can Rely On
As the second largest city in California, it can feel like quite a trek trying to move from one part of the San Diego area to another, making it all the more important to find quality movers San Diego. But don't worry – our elite team of professional San Diego movers specializes in making the moving process swift and effortless for customers like you, with a comprehensive array of services that'll cover everything you need from start to finish. Whether you're doing a short distance move within San Diego or a long distance move to another part of California, our team of movers in San Diego, CA will help prepare your belongings and move them to your new destination as carefully and quickly as possible. While San Diego is well-known for fun-in-the-sun, you can rest assured that our team of professional movers San diego will put our strong work ethic to work for you, completing your move on time and on budget without wasting a single minute. Simply give us a call or fill out our quick quote form and we'll help you get moving in no time! Although there are many movers in San Diego, CA, only our highly-trained staff can exceed your expectations.
How We Became Elite San Diego Movers
One look at our customer testimonials and you'll see it's clear that we've built a reputation for ourselves over the years as an elite team of San Diego movers. It's no fluke – we've earned our good standing among local customers by working hard and staying focused on our goal of creating the best possible moving experience for our customers. Above all else, our top priority with every moving job is to ensure our customers are completely satisfied with our work. As a result of our hard work, we're proud to be an "A" rated company with the Better Business Bureau, which shows our dedication to excellence. In addition, one of the key methods we use to achieve our high standards is by making sure all of our movers are full employees of our company who are fully trained and experienced in moving specifically. By using full employees instead of freelancers or temporary workers, we can ensure we deliver a high quality moving experience to customers like you.
Another aspect of our team that makes us so successful is our fully comprehensive services for moving and storage San Diego customers have come to trust over the years, which include some of the most robust San Diego moving and storage offerings around. Our services can cover just about all of your moving needs, including full packing, loading, unloading, short-term and long-term storage, furniture disassembly and reassembly, and much more. In fact, we take our moving services so seriously that even companies trust us to handle their corporate moves when they're looking for moving and storage San Diego companies can trust, knowing that they'll get top-quality moving service worthy to meet their corporate standards.
In addition, we serve many neighborhoods like La Jolla, Del Mar, Encinitas, Carlsbad, Oceanside, Rancho Bernardo, Escondido, San Marcos, Carmel Valley, Poway, and Rancho Santa Fe. Our strong management methods have allowed our company to grow over the years and achieve economies of scale that allow us to provide some of the most affordable prices around. And while San Diego may seem geographically big, we provide equally impressive coverage of the San Diego, as well us moves up to the Orange County and Los Angeles areas, as well as all the way up to the San Francisco Bay Area. No matter what your San Diego moving and storage needs may be, you can rest assured we've got you covered!
what our customers say
WE HAVE
900+
REVIEWS
IN LA, SF, SD
I could not have been HAPPIER with the move! I was hesitant hiring movers, but if Randy, Tyrese, and Morley help every time, then I would hire them EVERY. TIME. The guys were punctual. We had everything packed already, and I kid you not - they moved the boxes within 20 minutes (out of a third floor, 2 bed 2 bath!) And we had a LOT of boxes. The entire move took about 3 hours. These guys are not lazy. They were incredibly hard working and efficient. Very nice and actually made the move enjoyable. Tyrese even carried - by himself - our ridiculously heavy king size mattress that 3 buff guys struggled to move previously. And I LOVED that they actually put boxes in the rooms they were labeled for. Wish we could have taken them out to lunch, as they super deserved it and seemed like chill guys. Thank you so much for making the transition into our new home so much easier!
Read on yelp
My movers Vadin and Alexey were wicked friendly and helpful! They worked hard and got everything moved in the three hour time period. Only complaint is they showed up a little late but it happens. I will for sure use this company again!
Read on yelp
The answer to this question depends on your own schedule. If you have enough flexibility to pick up the time when you'd like to relocate, then try to avoid the summer months and the end-of-year holidays – since they are the busiest time for most moving companies San Diego. During that period, the number of shipments is extremely large.
But if the circumstances don't allow you to schedule your move in any other time, remember that Route 66 has the most modern equipment and a group of talented and dedicated movers, who are always ready to accommodate any residential or corporate move. 
Whenever you need a moving service in San Diego, we are here to assist you!
Reviews from customers is one of the most trusted source of brand information, when it comes to selecting the best moving company in San Diego. The majority of potential customers seek out the testimonials of satisfied clients who are happy to recommend a service on both social media and in consumer review websites.
In addition, we always recommend to check the moving company's Better Business Bureau (BBB) rating, in order to see if the movers conduct their business in the most ethical manner and have fair practices.
At Route 66, we had developed an impressive track record of outstanding customer satisfaction. Through the years, we have sought to make every customer interaction a positive experience, taking great pride in our professionalism, attention to details and continual improvement.
Today, we're proud to say that our hard work and efficiency has earned us recognition from the Better Business Bureau as an "A+" rated moving company!
If for any reason you have to change your moving date, contact us as soon as possible and we will work with you to reschedule the service at your convenience.
Be aware that the estimate's price may change depending on the new date.
We offer the best and the more flexible moving services in San Diego!
We are proud to say that we are fully insured and licensed by the California Public Utilities Commission, which means that we compile with all the local and federal transportation regulations – to protect you and your belongings during your move to San Diego.
As soon as you know that you are moving, contact us to check on availability and get an accurate estimate for your upcoming move to San Diego.
Start planning your relocation well in advance, so you can have enough time to cover all the aspects that are part of this process.
San Diego
Phone:

(858) 271-1711

Address:

7949 Stromesa Court, #W, San Diego, CA 92126

Office Hours:

Mon-Fri 8:00 AM to 7:00 PM; Sat-Sun 9:00 AM to 5:00 PM
MEET OUR San Diego TEAM
Our team at Route 66 Moving is dedicated to making sure your San Diego moving needs are completely met and your move goes as smoothly as possible. Whether you're just starting your planning or you're already well into your move, don't hesitate to reach out to us directly in you need anything at all.