2 Movers & Truck

$85 /per1 hour

3 Hours Minimum / Shrink-Wrap & Tape Included / +3.5% With Card Payment
3 Movers & Truck

$115 /per1 hour

3 Hours Minimum / Shrink-Wrap & Tape Included / +3.5% With Card Payment
4 Movers & Truck

$145 /per1 hour

3 Hours Minimum / Shrink-Wrap & Tape Included / +3.5% With Card Payment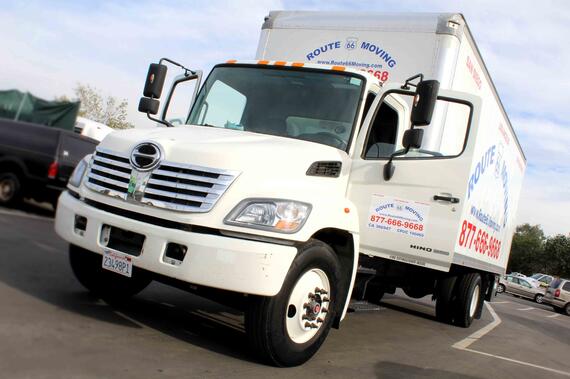 The Los Angeles Movers for All Your Moving Needs
When people think of Los Angeles, heavy traffic and a network of weaving freeways often comes to mind – all of which can be intimidating for local residents and companies who often turn to Los Angeles movers like us for help. Reliable Los Angeles movers like Route 66 Moving know how to ensure you won't have a stressful experience – our friendly team of professional LA movers specializes in being your one-stop solution for all of your Los Angeles moving needs. Simply let us know where you're moving to and from, and describe your moving needs, and our professional LA movers will handle all of the logistics, planning, and moving for you. From our years of experience, we know all the best routes and times to make your move as efficient and painless as possible, and we've performed moves from all kinds of cities in the surrounding greater Los Angeles area. Residents have already said that we are one of the top moving companies in Los Angeles. Find out why we have such strong customer reviews online for our Los Angeles moving services – give us a call or fill out our quick quote form to get your Los Angeles moving project started today. We're happy to provide a free estimate and answer any questions you may have. Remember that when it comes to moving companies in Los Angeles, Route 66 exceeds your expectations, starting from the very first phone call.
Why Customers Choose Us to be Their Los Angeles Movers
With years of experience conducting successful moving projects across the greater Los Angeles region stretching from Sherman Oaks and Burbank in the North to Long Beach in the South and Pasadena in the East, we've earned a reputation for ourselves as one of the most solid teams of movers in the area. Just one look at our outstanding track record as LA movers on review websites will show you that above all else, we put your customer satisfaction at the forefront of everything we do. In addition, our efficient management strategies have allowed us to achieve economies of scale that translate into some of the most affordable pricing around. But don't be fooled by our affordable rates – we also provide superior quality to staffing only fully employed, fully trained moving experts in our teams of LA movers; so you don't need to worry about getting subpar work from subcontracted freelancers or temporary workers who don't specialize in moving. Finally, we're proud that through our hard work and dedication to customer satisfaction, we've earned our status as an "A" rated company with the Better Business Bureau.
One of the most important reasons our customers choose us is also our comprehensive array of services and the wide range of locations we cover, making us a simple, one-stop solution for moving projects in the Los Angeles area. While we've got moving services for just about every possible need, some of our most popular services include full packing, loading, unloading, storage, furniture protection, relocation of heavy furniture, apartment moving, and much more.
We cover a wide range of cities in the Los Angeles area, including Santa Monica, Marina Del Rey, Manhattan Beach, Beverly Hills, Redondo Beach and many more. We're also not just Los Angeles household movers. No matter where you're moving to or from, or what moving services you need, we can handle everything from big office moves to small residential moves and apartment moving. Our expert LA movers will always handle your valuables with the same care and respect that we would use for our own. In addition, our local Los Angeles movers provide moving services in Irvine, San Bernardino, Riverside, and surrounding areas as well. Our hard work ethic also means that because we work 7 days per week, we're the perfect Los Angeles weekend local movers for anyone looking for Los Angeles weekend movers.
Give us a call today and find out what our friendly team of professional Los Angeles movers can do for you! Many locals consider us Los Angeles best movers with our many excellent Los Angeles moving services, so if you're looking for movers in Los Angeles, look no further! We're the movers LA folks like you can turn to when it comes to looking for movers local residents would recommend to friends and family. In addition to being movers Los Angeles residents have come to trust, we're also movers Pasadena and other cities have grown to love as well. We're not just one of the best moving companies Los Angeles has ever seen, we're also a big hit in all of the surrounding cities!
what our customers say
WE HAVE
900+
REVIEWS
IN LA, SF, SD
Illya, Arut, Max, and Sergei were our movers and let me start off by saying the guys were the best movers I've ever hired! I've moved many times before in the past and they have been definitely the most efficient, fast, and careful people, which is exactly what you need from movers.Their crew leader, Illya, was a very professional and respectable foreman. Gave me an accurate estimate and was very polite overall. Thank you!
Read on yelp
We booked Route 66 Moving and Storage company for our move from Los Angeles to Oakland. They called me in advance and showed up in time. Sergio, Valerii and Max took good care, used plenty of packing materials for everything (even provided wardrobes for my miscellaneous stuff free of charge). They ware really nice and polite to me. So, I'm pretty happy with my experience with the company. The rate for the move was reasonable. I would recommend this company to anyone.
Read on yelp
Please call us immediately! The more advance notice you give us about your date change the more likely we are to be able to provide you with the new date you want.
In general, moving companies in Los Angeles require more flexibility and advanced scheduling during certain times of the year, including the summer months (mid-May to mid-September), around Christmas and the holiday season.
During these periods, the heaviest demands are placed on moving trucks, equipment and staff.
However, our company understands that you may not have the opportunity to avoid the peak season; that's why we are always ready to provide you with customized and convenient moving services – in order to ensure a smooth relocation that fits with your particular schedule and needs.
One of the best ways to be sure about the integrity and reliability of a moving company is the ratings that they've received from the Better Business Bureau. The BBB's grade shows the company's devotion to conduct business in the most ethical manner as well as their commitment to a fair practice code.
In addition, we also recommend visiting other reliable customer review websites in order to check what clients are saying about the different moving companies in Los Angeles.
At Route 66, we know that value and trust are key ingredients of a quality relationship with our clients, and for that reason, we are proud of both: the positive reviews from our customers, and our A+ rating from the Better Business Bureau – because it showcases our continuos effort to strengthen the value we deliver.
Yes, we are a properly licensed, bonded and insured moving company committed to guarantee your maximum satisfaction and protection. We meet all the state insurance requirements, and our staff is covered by worker's compensation insurance, so if an accident occurs on your property during the move, you won't be held financially responsible.
As a reliable moving company in Los Angeles, we always fulfill our contractual obligations.
Schedule your move as earlier as possible regardless of the time of the year, but in case you only have a short period of time before your relocation, we will work with you to come as close as possible to your desired moving dates.
Remember that booking early means, that you'll have a greater chance to schedule your move with your preferred moving company in Los Angeles. If you wait too long to start the process, the company may not be available.
Los Angeles
Phone:

(323) 391-1377

Address:

7815 Van Nuys Blvd., Sute A, Panorama City, CA 91402

Office Hours:

Mon-Fri 8:00 AM to 7:00 PM; Sat-Sun 9:00 AM to 5:00 PM
MEET OUR Los Angeles TEAM
Our Los Angeles-based team of friendly moving professionals is here to give you the star treatment you deserve, so be sure to reach out to us for anything you need during your move.

Our team is here to make sure your move goes as smoothly as possible, so we're happy to stay connected during the whole process, from start to finish.

Eugene

Sales Manager

323-561-7959

Max

Logistic Manager

323-561-7959
leave us a message
If you want to move to Los Angeles, or if you need to relocate your office, or looking how to ship just a few pieces of furniture between cities; if you need storage service – then you don't need to spend time searching online typing 'Los Angeles moving company' or 'Los Angeles movers.' Contact us and we will find solutions to all of your moving and storage needs within a blink of an eye offering great prices and rates.