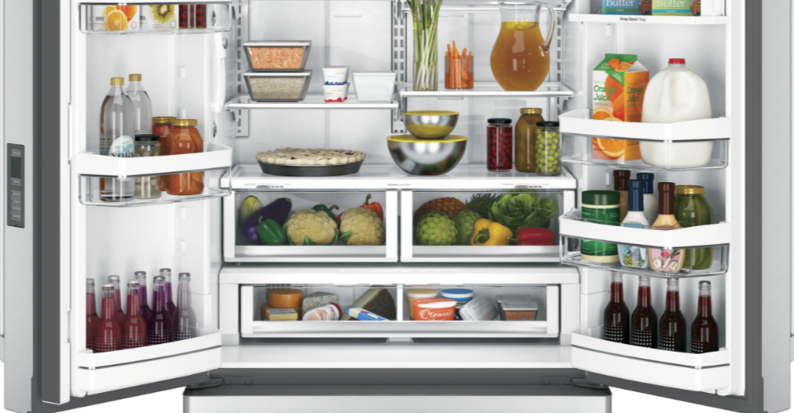 When you are moving refrigerator to your new house, there are certain measures that you should take in order to keep your appliance free of damage; including the following tips:
If possible, clean the refrigerator the day before you are moving out, so you can let it dry for 24 hours. Note: In general, it is not advisable to transport the refrigerator on its side, but if it does have to travel on its side, turn the appliance off 24 hours in advance, and allow it to drain.
             If you can not clean your refrigerator the day before, follow this recommendations:
Two hours before moving, turn refrigerator off and disconnect the power cord from the wall. This will give the evaporator time to defrost.
Remove all foods and dispose all perishable items.
Clean the refrigerator and freezer throughout with a mild cleaner and a damp cloth.
Remove all the internal parts such as drawers and shelves and soak them in a mixture of warm water and detergent to eliminate all food residue and odors. Wash the ice trays in lukewarm water.
Leave your refrigerator and freezer doors open as long as you can, to ensure that the appliance is completely dry.
To get rid of odors, place a small bag of activated charcoal.
Secure all loose items such as shelves, ice storage bucket, grille, storage pans, and ice trays. You can use tape to prevent that they come loose during transit.
Use a strong rope or a bungee cord to secure the refrigerator and freezer doors, but do not fasten the doors too tight because they may be pulled out of alignment. Don't use tape to secure the doors since it could damage the finish or leave residue.
If the refrigerator has a double-door, tie also the door handles together.
Keep the doors slightly open to allow for air flow, especially if the move takes longer than a day.
Cover the refrigerator with a heavy blanket or a furniture pad to protect it.
Loading the refrigerator into the moving truck
Use a dolly or a hand truck to move the refrigerator, but always truck it from the side, and never from the front or rear to avoid damage.
keep the refrigerator standing upright when loading it into the moving truck. It's never a good idea to lay the refrigerator on its back.
If there's no other choice than laying the refrigerator down, always place it on its side and not on its back (like we previously indicated.)
a) Lay top and bottom freezer models on the side opposite the hinges, so the doors stay closed.
b) Place side by side models on the freezer side, to prevent that the door comes open.
c) In order to prevent drain water from running back into the appliance (except if it's a new out of the box refrigerator), keep Monogram, bottom-mount and compact models standing upright.  Failure to do this will result in serious damages to your appliance.
Note: Turn the refrigerator off a day in advance to allow it to drain, in case the appliance has to be transported on its side.
Secure the refrigerator inside of the moving truck, especially if the appliance is on rollers, so it doesn't move or roll during transit and get damaged. 
As a final indication, please remember that before you plug the refrigerator in, leave the unit standing upright for 24 hours (if the unit was transported on its side for more than a day).
As a rule, before you plug in the unit again, leave it standing upright the equal amount of time as it was on its side.
When the unit was laying on its side for a short period because you or the technician had to clean it or adjust it, just leave it standing upright for a few minutes before plug it in.
Abrupt changes in temperature, bumpy rides, brusque movements and lack of airflow are some of the factors that can adversely affect your refrigerator during the moving process. That's why if you need professional assistance to perform this task, please don't hesitate to contact us.
Our team are professional trained and they know the best way to move a refrigerator, and all your fragile household appliances.