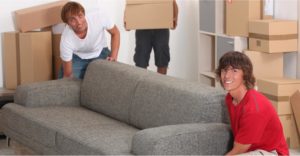 If you are relocating to a new place, whether across the country or within your state, there are a lot of things you have to consider. It is important for you to plan ahead because moving can be really expensive. According to the U.S. News & World Report, the average moving cost within a state is about $1,170, while moving across the country costs about $5,630.
However, according to the senior director of communications for the American Moving & Storage Association, the cost can vary depending on your location, where you're moving to and the quantity of items you're moving. Someone living in a three-bedroom apartment will have a different cost from someone in a one-bedroom house. In addition to that, there are the unexpected moving expenses – expenses you could have prevented if you knew how to avoid them.
Here are 5 tips that will help you avoid unexpected moving expenses:
1. Get Your Estimate in Writing
You should be careful of companies that will only give you an estimate of the moving expenses over the phone without coming to your house to see the things that need to be moved. Companies that visit your home first will be able to provide you a better estimate depending on the weight of your belongings; by doing this, you will most likely avoid any inflated bill.
It is recommended you get written estimates from at least three different companies, to avoid any confusion. If a company offers you a cheap estimate, don't just assume you will receive a better deal when you go with them, they might have additional charges that will be tacked immediately they have loaded your items into the truck.
Steer clear of any company that tries to charge you for providing an estimate.
2. Don't Forget to Ask About Additional Charges
Once you hire a moving company, inquire about any charges you will be required to pay apart from the actual cost of transporting your items. For instance, you might be required to pay the employees helping with the move an hourly fee. To get the best estimate, ask how many employees will be involved in moving your belongings and the time it will take for the move to be complete.
Note that you could be charged additional fees for packing and unpacking your belongings, mileage, storage of your items temporary if you are using a shuttle service, if the truck cannot be parked close to the residence. If you don't inquire about any additional costs, you could easily go over budget.
3. You Might Need a Moving Permit

In cities such as San Francisco, you'll need to get a moving permit, which usually costs about $200. This might seem like a lot of money, but you might end up paying more when you get charged with parking violations when you move without a permit. Check the city where you are moving to see if you need to reserve a parking space. Having a reserved parking spot can help you prevent shuttle fees if you have to park far from your apartment or house.
4. Protect your move
According to the Federal Motor Carrier Safety Administration, you will be required to provide both a full value liability protection and release value protection for your belongings that are either damaged or lost during the move if you are moving to a different state. When you have a full value protection, you must pay the replacement value for damaged or lost items.
5. Save on Packing Materials

One of the easiest ways to save is on packing materials. Instead of paying full-price for boxes, see if you can get used cardboard boxes free on sites like Craigslist or NextDoor. Some retailers will also help you with boxes as well. With a bit of planning and asking, you can save hundreds of dollars on packing products alone.
WE HOPE THESE TIPS HELP YOU IN PLANNING FOR YOUR MOVE AND AVOIDING UNEXPECTED MOVING EXPENSES!