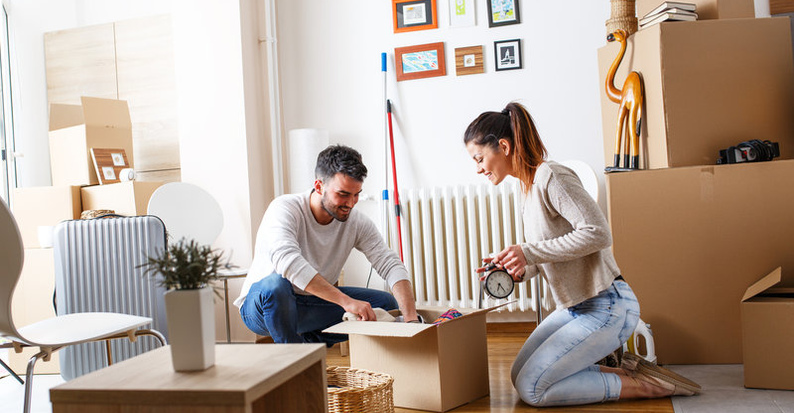 The moving process is something most people dread.
Who wants to waste time boxing up their life when they need to be working or taking care of children? Probably not you.
We've narrowed down the 8 best moving tips you must do to make sure your personal moving process goes as smoothly as possible!
1. Declutter
A good way to determine what you want to take with you into your new place is to sort through everything you own. 
By organizing your belongings into donating, sell, and pack piles, you can see what you have and figure out what things you really want to keep.
Go through your clothes and if you haven't worn a certain piece in months, consider donating it to a local charity.
File away important documents like passports, birth certificates, and insurance information that is always necessary to keep.
2. Find Free Boxes
Don't waste extra money on buying moving boxes. Get resourceful and visit your local supermarket or liquor stores that toss boxes out on a daily basis. 
Many places have cardboard boxes that are completely free for you to take. Gathering cardboard boxes in small, medium, and large sizes will be beneficial for your move.
3. Label Your Boxes
To speed up the moving in time you should label every box that you send into your moving van. 
Place all of your kitchen, living room, bedroom, dining room, and bathroom items with brightly color-coded markers to signify the difference among your dozens of boxes. 
Correctly labeling your boxes will help you move into each new room in your home a lot faster.
4. Change Your Address
Another part of the moving process is making sure to change your address. Your mailing address needs to be updated so you can receive all of your important documents at your new place.
It's also important to let your neighbors know that you are moving. Both your current neighbors and your new neighbors should be aware of your impending move just in case they need to step in when the mail accidentally ends up in the wrong place. 
Some experts recommend that you change your address at least two weeks before you move, so we suggest that you prioritized this as one of your top moving tips to follow. 
Changing your address is one of the most necessary moving tips we can tell you to do. Your address can be found on most legal identification cards, after all. Your address is on your driver's license, cell phone bill, credit card statements, and more. Once you do complete this process, your priority mail will be delivered to your new place at no charge. 
You can simply change your address online, too. Fill out the USPS Change of Address Form to confirm your new address. An e-mail will be sent to you to verify that everything is correct on your form, and then you will be set.
5. Clean Up Your Old Home
One of the best moving tips we can offer you is to spend time cleaning out your old home. Take a few moments in each area of your old home to go quickly clean down the walls and other furnishings. 
If someone is moving into your old house, be courteous and clean the rooms out. Instead of leaving behind a big mess for them to clean, make sure to sweep wood floors and vacuum carpets.
When it comes to appliances, defrost the freezer before you carry it away with you. This is an important step to complete 24 hours before you move into your new place. 
6. Take Photos of Your Electronics
All of the wires that connect your TV to the cable box are in a certain order in your old home, so make sure they stay that way in your new place.
Keeping track of what wires connect into what ports on your TV is easy to do if you take photos of everything ahead of time. 
Label all of the cords that connect your TV to an outlet for extra guidance when it comes time to set your TV back up and running.
7. Have Your Finances In Order
To pay for the moving company, make sure you have your credit card information in place. Consider moving your important bills like rent, phone, and other monthly payments to auto-pay mode. You can easily set this up by contacting your bank prior to moving. 
The last thing you want to do is worry about paying your bills on time during this crazy period of moving your life from one place to the next. Setting up auto-pay mode is a lifesaver. This process will ensure that all of your bills get paid so you can focus on gathering your belongings for your big move!
8. Hiring a Moving Company Is One of Our Key Moving Tips
Moving out is just putting a bunch of boxes in a car, right?
Well, it's not that simple. If you need help moving hire a moving company because they are professionals. Hiring a team of experts to help you move is especially nice if you have never moved anywhere new before. 
At Route 66 Moving we specialize in moving local and long distance families. In California, we help people move in San Francisco, San Diego, and Los Angeles. Our professionals understand the difficulties that arise when moving in areas that have steep hills. 
Contact us today for a free quote just in time for your next move. 
In Conclusion
Moving can be a difficult task for you to take on by yourself. If you don't want to spend agonizing days moving your things on your own, consider hiring a professional moving company to help you out.
We hope that these 8 moving tips listed above will make your moving process quicker and more efficient.