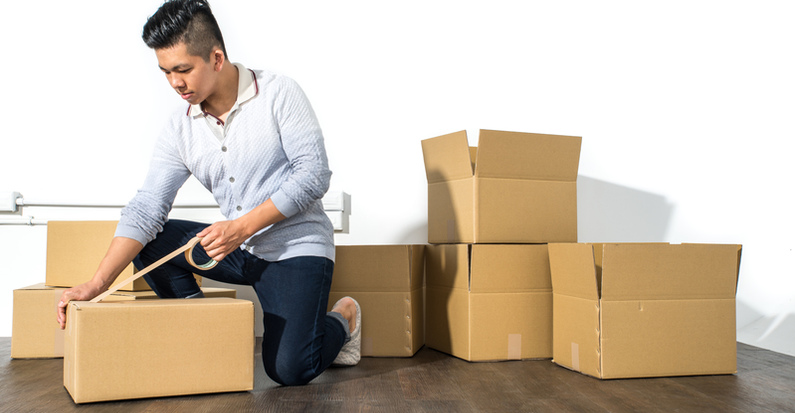 Packing up clothes, filling boxes, lifting heavy furniture- sounds like a great Saturday, right? 
We get it- the actual task of moving is nobody's idea of fun. However, the right tools and supplies can make your big day much easier. 
Before the day comes, you'll want to stock up on these 5 items to help out your moving crew. Check out our recommended moving supplies below. 
1. Plastic Wrap
We love stretch plastic wrap because it's versatile and has many uses. You can use it to seal, bind, or package together just about any kind of material.
If you're moving cabinets or dressers, stretch plastic wrap is very handy. You can wrap it around these items to ensure their drawers stay in place. 
Or, plastic wrap can be used to bind kitchenware together, such as plates or silverware. 
Since the material only sticks to its self and leaves no residue, it's an absolute necessity. 
2. Carpet Protection Film
Often times, this handy item is overlooked. But, with movers coming in and out all day, you're wise to protect your carpet. 
Carpet film is typically a self-adhesive layer that goes on top of your floor for temporary use.
It's weather resistant and should be able to withstand cracking and puncturing. If it's a rainy or snowy day, you'll definitely want to be protected! 
3. New Boxes
Unfortunately, using hand-me-down boxes when moving isn't such a great idea. They are likely already run down and run the risk of breaking down.
Also, you will want moving boxes that have lids or are able to be sealed. Often, with older boxes, this can be harder to achieve. 
Investing in new moving boxes ensures your items will be in a secure spot. 
Don't forget about specialty items, such as mirrors or artwork. Also, you can find boxes that package your wardrobe together, so your closet can be quickly assembled. 
4. Packaging Paper 
Packaging paper is used in moving boxes to fill in the gaps between items. Without it, your valuables can shift around and break.
In a nutshell, it's like bubble wrap since it prevents movement from your packed up pieces. 
But, packaging paper is intended for smaller items and is often used on less fragile things. 
You can purchase real packaging paper, or you can use white tissue paper or blank newsprint. Don't use newspaper though- it can leave ink stains! 
5. Moving Blankets
Last not but least, we recommend investing in moving blankets. You can lie these around to prevent stains and scratches on your items. 
Of all the moving supplies, you will want to stock up on these blankets as much as possible. They can be used to protect not only your items but the moving vehicle, as well. 
Moving blankets help when stacking furniture or boxes on top of one another. You can also lie it down inside your moving vehicle to avoid accumulating scratches. 
Not Interested in Moving Supplies? 
That's okay- we've got you covered. At Route 66, we've been offering superior moving and storage services for nearly a decade. 
We recognize each customer is different, so we offer customized moving solutions. Contact us today to learn more.