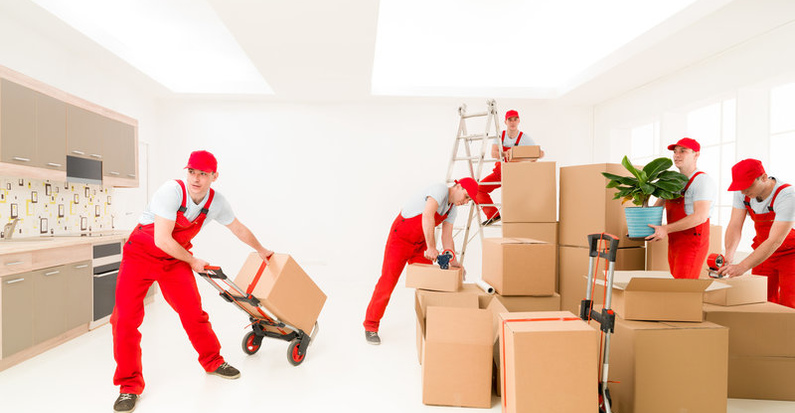 Are you moving to a new apartment? What's your moving plan? 
If you're considering moving your belongings yourself to save money, think again. Apartment movers will make the process a lot easier and will ensure that everything you own gets to your new place in one piece. 
Read on to learn more about why apartment movers rock! 
They Can Save You Money
You might think it's cheaper to move with the help of friends or family. This isn't always the case, though! 
There are a lot of costs that come with moving to a new apartment, from packing materials to the cost of gas from driving back and forth across town. Moving companies charge a flat rate for the process, you won't have to deal with unexpected expenses. 
Professional apartment movers also often have special relationships with moving supply companies. They can get you better deals on packing supplies like boxes and tape.
Movers Help Keep Your Belongings Safe
There are lots of things you can do to protect your belongings when you pack. But, if you don't have professional apartment movers helping you, all that effort could go to waste and your items could be damaged during transit.  
Professional movers know how to navigate tricky areas like stairways and narrow hallways. They'll make sure nothing gets dinged on the way out, and they'll also put your boxes and belongings in the moving truck in just the right way to ensure they end up at your new home in one piece. 
They Help You Avoid Injury
Personal safety is another important reason to hire apartment movers. 
Professional movers aren't just able to move heavy boxes and furniture, they also know how to do it safely. Sure, you and your buddies could probably lift that couch yourself, but you might hurt your back or shoulder in the process. 
Getting to your new home injury-free is crucial, and professional movers will make sure that happens. 
They're Faster and More Efficient
Especially when you're moving a long distance, it can hard to recruit people who have the time to help you.
Don't get stuck wasting time and trying to handle your move on your own. Professional movers know how to maximize their time so that your move is as fast and efficient as possible. With their help, you can easily get your move done and get on with your life in your new home. 
They'll Give You Peace of Mind
Moving is stressful, especially when you're trying to do it on your own. 
When you hire professionals, you have peace of mind that they will show up on time and get the job done as quickly as possible. Movers work around your schedule, so you don't have to make sacrifices to accommodate family and friends. They also will never cancel the day of the move or have to suddenly leave halfway through the day. 
Save yourself some stress and hire a moving company to help you out. You'll be able to focus on more fun and important things, like how you're going to decorate your new apartment! 
They'll be Held Accountable for Damage
What are you going to do if the friend you asked to help you move trips and breaks your dishes or scratches your kitchen table? It will be pretty awkward asking them to pay for the repairs or replacements. 
When you work with professional movers, you are able to avoid that awkwardness because the company is accountable for any damage that may occur. 
When you're looking for professional movers, be sure to ask about their moving company liability so that you fully understand what they will and will not cover.   
They Know More About the Area
Professional movers are also great because, when they're local, they usually have good knowledge about the area you're moving to.
If you're new in town, movers will know the best routes to take to make the trip to your new apartment as simple as possible. They also can probably give you some good restaurant and shopping recommendations, which are always a bonus when you're in a new place. 
They'll Help You Pack
Many moving companies also provide assistance with packing up your apartment. 
Sure, you could pack your belongings yourself, but you might actually spend more money on packing materials this way. Professional movers can provide the tape, boxes, bubble wrap, and other materials for you.
They'll also probably do a better job at packing your stuff up than you would. Apartment movers know how to pack so that your items are protected.
Professionals movers are also more efficient. What might take you weeks to do in between work and other obligations will likely only take them a few days. 
They Provide Friendly Customer Service
Even your best friends might grumble about having to spend their whole weekend helping you move. You'll never hear complaints from professional apartment movers, though. 
Their job is to make your move as easy as possible, and moving companies, just like other businesses, often pride themselves on providing excellent customer service. 
Your movers will not only be happy to help you move to your new apartment, but they'll also be better able to answer any questions you might have about the process. 
They Have Storage Options Available
What if you are behind schedule and don't reach your destination on time, or end up not having enough room for all your belongings? Moving companies often provide a variety of storage options, which are great for these unexpected situations. 
Additional charges will sometimes be applied if you didn't anticipate needing storage space. However, the cost will be worth it to have somewhere to keep your things and not have to worry about theft, loss or damage, whether it's for a few days or a few weeks. 
Hire Apartment Movers Today
Whether you are moving across town or across the country, Route 66 Moving is here to help. We're fully staffed with experienced and friendly apartment movers who will help you get the job done safely and efficiently.
Contact us today for a free quote!