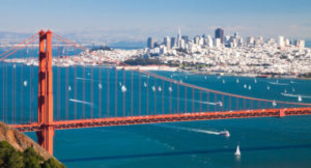 Whether you call it The City, Fog City, or City by the Bay, San Francisco is a vibrant collection of colorful, artistic neighborhoods and friendly, welcoming people. Moving to San Francisco, CA can be the start of a grand adventure, but there are a few things to know before you board a plane and make your big move to the bay.
1. The weather is not "California hot."
California has a reputation of being hot year-round, but this is only true further south. The temperature in San Francisco hovers between 50 and 70 year round, with only a few days hotter or cooler than this. So while you'll want some shorts and summer attire in your wardrobe, you'll also want a substantial collection of pants and long sleeves.
2. Fog really is common.
San Francisco is known for its fog, but many people don't realize the extent of the fog until they move here. Loyal residents come to enjoy and embrace the fog, but be prepared to spend some time adapting to it during your morning commute. If you'll have a car in the city, fog lights are a must!
3. Finding housing can be challenging, but it's not impossible.
With more and more people moving into San Francisco, there is a bit of a housing shortage, and finding an apartment is not a quick process. However, if you're open to living with roommates, signing a short-term sublease at first, or moving into a less conventional space, you'll have an easier time. Just remember to start your apartment hunt early.
4. The hills really are steep.
When moving to San Francisco, CA, many people underestimate the hills. They make your calves burn when you walk up them, and almost every street includes them. Walking to work or to the store will be much more of a workout here than in New York, Chicago, or any other major city.
5. It's not that large of a city.
A lot of people live in the sprawling Bay Area around San Francisco, but the city itself only had a population of around 864,000 as of 2015.
6. The tech boom is in full swing.
Over the last 10 years, many web-based and tech startups have arisen in San Francisco. Many of the younger residents are in these industries; you'll meet a lot of graphic designers, web developers, and programmers.
7. There's a large homeless population.
Homelessness is a big problem in the entire bay area, but rest assured that like most other San Francisco residents, the homeless people tend to be friendly. They're usually the victims of bad circumstances, not criminals or dangerous.
8. Brunch is a big deal.
Restaurants offer extensive brunch menus, and meeting friends for a late-morning meal is a central weekend event. Residents love trying out new, trendy brunch spots.
9. "Going green" is the norm.
When moving to San Francisco, CA, note that you'll pay $0.10 for each plastic bag in stores since reusable bags are preferred. Recycling and composting bins are found in most homes and public settings.
10. Ride-sharing is commonplace.
Ride-sharing apps have quickly become the preferred mode of transportation in San Francisco. Two major ride sharing companies are headquartered in the city, and their services are much more efficient than the bus system or conventional taxis.
Moving to San Francisco, CA is a great choice if you're artistic, tech-savvy, or just looking for a new adventure. This breathtaking City by the Bay embraces many types of beauty and originality, from its people, to its businesses, to its natural scenery.