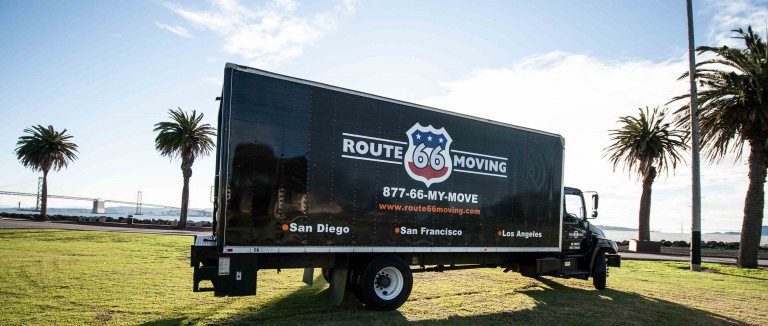 In this article, I will provide most of the options when it comes to making a decision of how to move long distance. There are few different ways to move long distance. I will start with probably the cheapest and most time and energy consuming way to move long distance within California.
Rent a Moving Truck
1)  Depending on if you are moving locally or moving long distance the truck rentals will offer round-trip or one-way pricing for you. For the moves over a $50-100 miles, it is most likely better to go with one way rental to save on miles, gas, insurance, etc. Almost all of big rentals companies have locations in every city. There are few national companies to choose from: Uhaul, Budget, Penske, Ryder, Enterprise. For the round trip (local moves) rentals, you need to pay attention to two things – Rate for the truck + mileage. Most of them charge a flat rate for the truck + mileage. Please calculate twice before chose one.
For example, Uhaul will sound more attractive of $39.00 per day (but the fine will state $.99/mile which is pretty expensive with long distance moves. Budget may say $99/day + $.25/mile which will give more value for long trips. Some of them such as Ryder will include some miles in a pretty high daily rate of $200+/day. Also, you may browse for some coupons and specials online to find the best deal possible. Just remember to determinate of how many days and estimated mileage before research.
For the one-way rentals it is easier – just provide both pick up and delivery zip codes to get the rate. Please make sure the pickup and drop off locations are close to your zip codes. The rule of thumb is – the bigger the company – the more chances they will both a pick and drop location near your zip code.
In both options, you will be charged insurance and fees. Please check with your auto insurance if the cover truck rentals (specifically ask about overhead coverage in case you hit the tree or gas station roof). You will not need a special drivers license for the truck, but there are few important things to know when you behind the wheel of a big truck.
A) Keep a safe distance – even empty truck will have a much longer breaking time compare with a regular car.
B) Don't make sharp turns – go as wide as possible to prevent the cutoff. Always stay in the right lane when both lanes are turning (no matter right or left).
C) Always watch for overhead clearance (gas stations, tree branches, road signs on the parking lots, etc.)
D) Some trucks use gas but most of them Diesel. Make sure you plan ahead to refuel cause not all gas stations have diesel.
After you chose a truck rental company, you need to find the labor to pack, load and unload your belongings. While most people prefer to pack themselves to save money some may hire professionals to do the most time taking part of the move. It may take weeks for you to pack what will take hours for professional. Remember, that professional will not think if you should keep the item and move it or just through it away. He will just pack it and let you decide when you unpack your things. Most local moving companies will have a packing crew for hire. The rate will be around $45/hr per person per hour + packing materials. (You can buy boxes, packing paper, packing tape, bubble wrap in advance to save (Home Depot, Lowes will have the lowest prices for packing supplies, but most truck rental companies or local storages will have it also). Average packer packs 4-5 boxes per hour, and it will take 2-3 hours per person to pack the room of an average house. Please consider using 2-4 crew members to pack and speed up the process for bigger houses. Important, Pack all your cash, jewelers, and all other small size valuables on your person to avoid any potential theft. If you would like to save on the labor rate you can ask friends or hire some people that stand around at Home Depot. It will cost you $15/20 hr but will require constant supervision. To our experience, only 10% of those laborers will satisfy you. So be prepared for some headache.
When the time comes to the moving date, you will have the same options – Moving company professionals to pack your furniture and load into the truck, friends or Home Depot guys.The rate moving companies will charge will be around $85/hr for two movers to $115/hr for three movers and $145/hr for four movers. Make sure you do not have anything super bulky or heavy (piano, pool table, giant armoire, have appliances, etc.) if you decide to hire two movers crew. They may refuse to do the big items or may damage your house or injure themselves. Important, make sure the moving company carries workers compensation insurance, so the claim will not go against you or your homeowner's insurance of in case of an injury. Obviously, it will be at your risk if you ask friends or hire unlicensed and uninsured day laborers. You will need to provide moving blankets and shrink wrap to protect your furniture in all cases. The moving blankets are pretty expensive (around $12/each) so make sure you rent them together with the truck. Also, you will need to rent moving equipment such as a dolly, hand trucks, and straps if you do not want to injure your back. You will also need some tools to disassemble and reassemble your furniture. Remember that you will need to arrange the unloading crew at the other end. Please plan in advance – Friday, Saturday, and Sunday are the busiest days for the movers, and they usually charge a little extra for those days. That is your Do It Yourself options.
How to Rent a Trailer or POD to Move Long Distance
2) The second option is to get POD or Trailer Rental. It will be delivered to your house, and you will need to arrange the labor to load and unload by yourself. This option will eliminate the driving part from the plan above. Don't be fulled by POD name – this is not the industry but is a brand. To make a competitive market research, you will need to look for moving containers or storage containers. There are plenty of them (Ubox by Uhaul, Big Box, POD's, etc.) A lot of big moving companies are also offering that option now. You may also hire a trailer by ABF – they will drop it off for you for a few days by your house and will deliver within a couple of weeks to your new place. You will be paying by the linear foot there. Please note, that none of these companies will be responsible for the damages since they do not provide labor to load and unload. They will only be responsible if there is an external damage to the container or trailer. So make sure you hire someone knowledgeable how to pack containers. Most moving companies will have those people available for hire to help you move long distance.
3) The third and most convenient option are to hire a full-service moving company to handle your long distance move. Please note, this is not always the most expensive way to go. For example Route 66 will beat any rate to move long distance within California. The reason is that they have multiple locations within the state and their trucks travel between them every day. If you can be a little flexible with your long distance moving date – they can sometimes beat Uhaul prices since they have an empty truck going your way anyway. Make sure you ask for an in-home estimate. While some companies will give you a rate per pound or Cubic Foot, and it is impossible to determine exactly the weight or the volume, Route 66 will provide you a flat rate to move long distance for your household. It will not be less, and it will not be more. It will be the number you can prepare the cashier's check for and be done with the move. They will come a day before to pack your boxes if you would like full packing service. Why should you go with the local company rather than nationwide Van Line? The Moving Van Lines do not do operations, it just the brand which put all contractors they work with under one license. Your experience will depend on your luck of which contractor will appear at your house. Most of them do not care about their reputation since they work under a recognizable brand and don't represent their own name. The labor their hire is way underpaid comparable with Local Moving Companies and the job they do is way lower quality. They can damage your house, your furniture, steel from you and you will never find out who did it since there will be me multiple companies involved. If you are moving within the state of California, only Route 66 employees are working at both ends under the same management. You will have the same point of contact through the whole move which will keep you updated at any time.
So there is no doubt that that hiring a full-service moving company will relieve most of the stress associated with the move. You will be able to concentrate your efforts on finding a house or apartment, job, transferring bills, mail, insurance coverage, car registration, etc. Again, it may not be the most expensive option to go if you are educated and know what to look and ask for and it may help you financial.
I hope this article was helpful for you to make a decision which way to go when planning to move long distance. Call Route 66 Moving or CLICK HERE for a Free Estimate for your long distance move; we are experts with over 10,000 moves under our belt we got your covered!