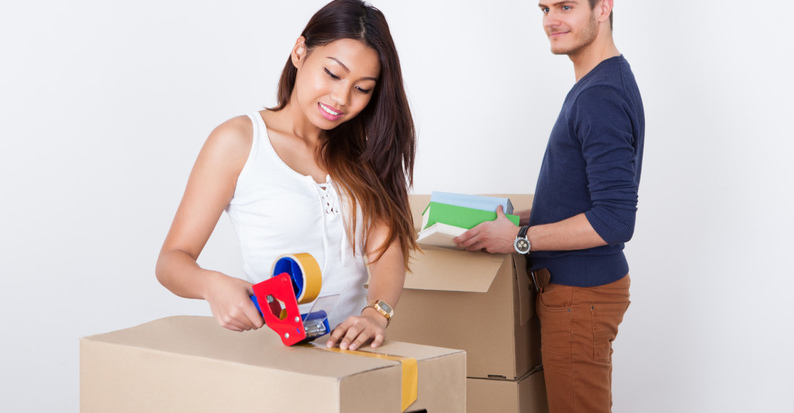 So you are relocating, and you and your belongings will be making that long distance journey to San Diego.
And you need to make sure you pack and label your items accordingly to ensure your "after-move" goes as efficiently as possible.  Which means, making sure the movers can easily unload your boxes to the proper locations inside your new home.  Because nothing is more frustrating than having to rifle through boxes chaotically scattered throughout your home, to determine their contents and respective locations in order to put them away.  Thus, good preparation is key to a successful and stress-free move.
As you contemplate this task, ask yourself the question: "What is the best way to label my boxes for my long distance move to San Diego?" — as your answer will be paramount to how well you organize this process.
To make sure your move goes off without a hitch, here are some labeling pointers that will help make unpacking less of a nightmare:
Color code your labels.  Use colored markers to label your boxes, and designate a single color to each room.  For example, red for the bedroom, green for the living room, orange for the kitchen, etc., and this will guarantee every box for that room gets placed there, and if it doesn't, will make it easier to find in the sea of boxes spread throughout your home.  Color coding can also be done by purchasing colored adhesive labels, or tape, that you can write on and stick to your boxes.
Label all sides of the box.  Be sure to label each side of every box so the movers will not have to keep rotating them to find the label.  Some individuals prefer to label only the tops of the boxes, but this can make it difficult for movers when they're unloading boxes off the truck because they aren't able to see the tops of the boxes until they physically pull them out of the truck.  Which in turn, may disrupt their approach to systematically getting the boxes off the truck and into their designated rooms.
Mark the boxes that will get put away first.  Yes, Yes, Yes … mark these boxes clearly and unpack them first.  Write on the label (or the box) the type of content inside so there is no mistaken what you are unpacking.  This might include boxes that contain house cleaners, first-aid, bedding, hygiene products (toothpaste, deodorant, wash cloths, towels, etc.), food products, clothing (because you will need to get dressed in the morning), medication, and if you have any pets, then boxes containing their items will need priority unpacking as well.
Be sure to include the weight of the box on the label.  Because the movers have no idea what's inside your boxes, they will need to know which ones are heavy weight, medium weight, or light weight so they are not stacking them incorrectly.  This also helps you when moving and lifting boxes around while unpacking.
Consider using a mobile app to track your boxes.  These days we use our mobile devices to do everything from surfing the internet, work, business, event planning, etc., so why not use it to track your boxes.  Visit the app store on your device and do a quick search on "inventory apps" and you should find one that suits your purpose.  Take a picture of the contents placed in each box, the box itself, and then assign it a tracking number, and voila! you've set up a tracking system that will give you peace of mind knowing that you are able to track every single item placed on the truck should an unfortunate event occur.
Using informative labeling will make certain you have a super successful move and make unpacking a breeze.  So follow these pointers and you will be well on your way to a stress-free, long distance journey to San Diego. Call Route 66 Moving for a Free Estimate or click here.